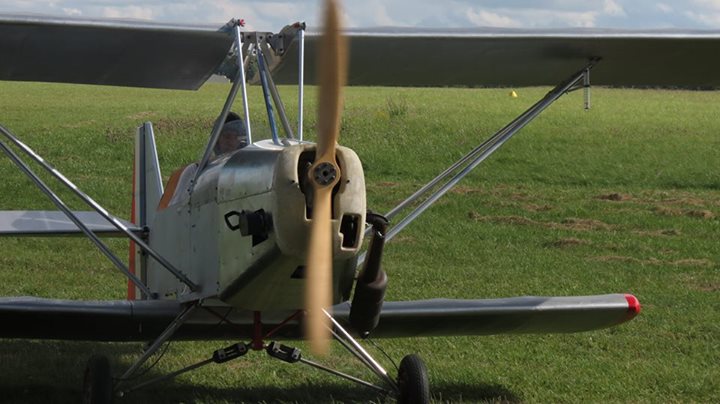 The Dragon is the first aircraft of the APEV with a wooden fuselage. The Dragon is a single-seater biplane. The top wing has a variable pitch (+2°, -4°), which does not require ailerons for roll control. This rotating wing system has already be satisfactory on the Cubchel, Scoutchel and Demoichelle.
The building of the Dragon is doable by an amateur builder and it does not require any specific tooling (drill, clamps, riveting clip, iron...). The manufacturing of the wood fuselage is slightly longer than the usual metallic fuselage of the other APEV's aircraft. As a compensation, the Dragon is comfortable and has good performances.
The wings of the Scoutchel are similar to those of the Pouchel Light and the Demoichelle. They are made using a single aluminium spar (50 x 100 mm), with Stydodur ribs covered with 6/10mm plywood. The leading edge is made of glass fiber and the wings are covered with Dacron 1000 fabric. The fuselage is build with spruce and plywood. The assembly is done with polyurethane glue (reference available).
The assembly of the kit requires around 250 hours of work before the first flight, from the plans you'll need 300 to 500 hours.
The prototype of the two-seater Dragon is currently under construction !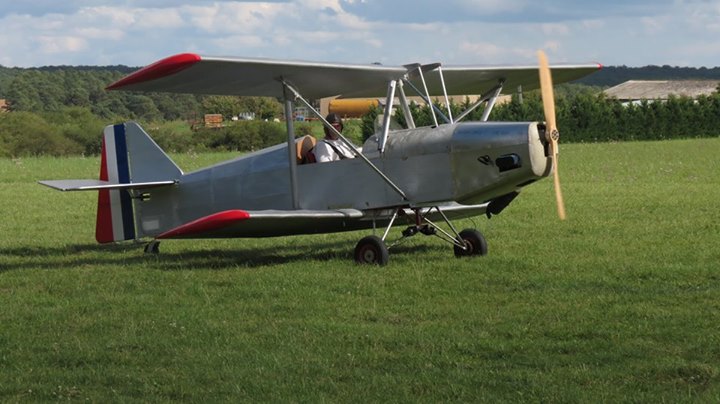 Single-seater 3 axis ultralight powered with a ROTAX 503
| Top wing span | 6.30m |
| --- | --- |
| Rear wing span | 4.30m |
| Wing width | 1m20 |
| Wing profile | NACA 23112 |
| Wing Surface | 12 m2 |
| Empty weight | 180 kgs |
| Max weight (MTOW) | 300 kgs |
| Max Speed VNE | 120 km/h |
| Cruise speed | 100 km/h |
| Stall speed | 50 km/h |
| Closeable wings | Yes |
| Luggage chest | Possible |
| Max G-Factor | +6g/-3g |
Plans, partial or complete kit for the APEV members