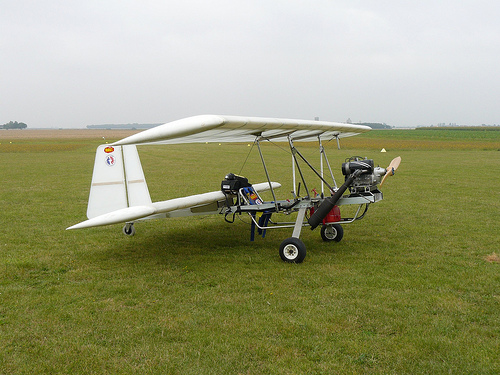 The Pouchel II
A Ladderless Pouchel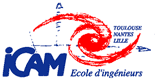 Due of the success of the Pouchel (over 120 plans sets sold to members of the APEV), our ladder manufacturer became concerned about his legal liability and no longer agreed to sale us some potentially flying ladders ! Therefore, we launched the design study for the Pouchel II.
The Pouchel II benefits from five years of experience with the Pouchel Basic, which has passed 100 hours of flight.

The Pouchel II is even more simple to construct than the Basic. The kit only requires a hundred hours to complete using a few simple tools (a drill, a pop-riveter, a few wrenches and a clothes iron) and other pieces available from the Association. Only the paint, the instruments and the motor are not included in the kit.
A Rotax 447 engine powered the prototype and worked perfectly, giving the best combination of quality and price (with many available used).
Following flight tests, Professor Franck Petitjean, the project leader, studied the results of numerous test measurements on the Pouchel II. The fatigue tests concluded that, under normal conditions, the Pouchel II has an unlimited life-expectancy.
The price of the completed Pouchel II is normally between 6000 and 7000 euros.

The Pouchel II kits are not available anymore. The next-generation Pouchel, the Pouchel Light has replaced the Pouchel II.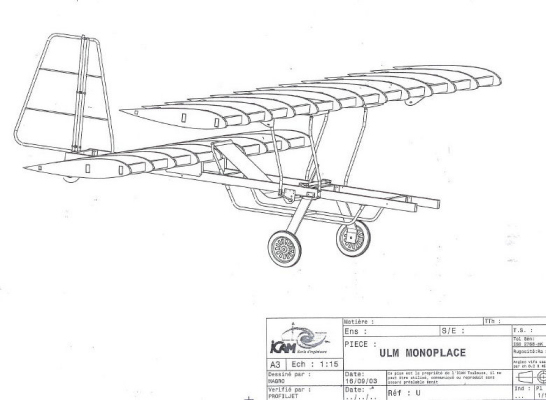 Single-Seat MIGNET formula with a ROTAX 377 ou 447 engine
| Front wing span | 6m |
| --- | --- |
| Rear wing span | 4m |
| Wing width | 1m20 |
| Wing profile | NACA 23112 |
| Surface | 12 m2 |
| Empty weight | 150 kgs |
| Maximum weight | 275 kgs |
| Maximum speed | 120 km/h |
| Cruising speed | 90 km/h |
| Maximum G-Factor | +4g/-2g |
Pouchel Light, the Pouchel in a lighter version
The Pouchel light is now available (kit or plans) to remplace the Pouchel II
The Pouchel Light of Noel Bastiaens, on the ground.. and airborne !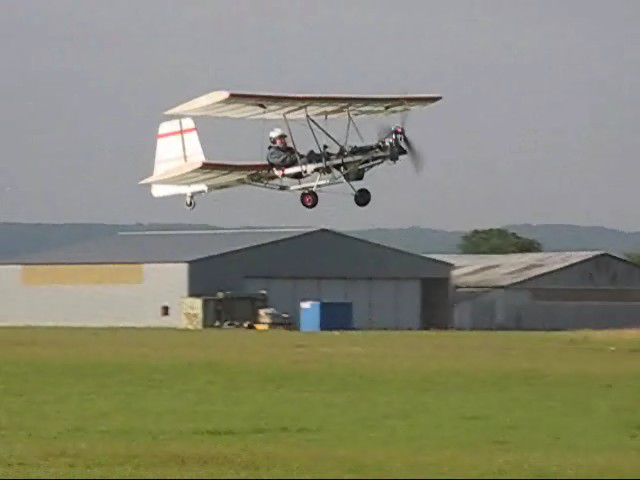 Single Seat H MIGNET formula powered with a ROTAX 377 or 447
| Front wing span | 6m |
| --- | --- |
| Rear wing span | 4m |
| Wing width | 1m20 |
| Wing profile | NACA 23112 |
| Surface | 12 m2 |
| Empty weight | 100 kgs |
| Max weight (MTOW) | 225 kgs |
| Max Speed VNE | 120 km/h |
| Cruise speed | 90 km/h |
| Max G-Factor | +4g/-2g |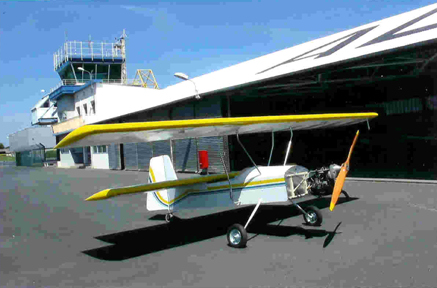 Pouchel Classic : A Pouchel with a plywood fuselage
Single Seat H MIGNET formula powered with a ROTAX 377 or 447
Front wing span

6m

Rear wing span
4m
Wing width
1m20
Wing profile
NACA 23112
Surface
12 m2
Empty weight
150 kgs
Max weight (MTOW)
250 kgs
Max Speed VNE
120 km/h
Cruise spe