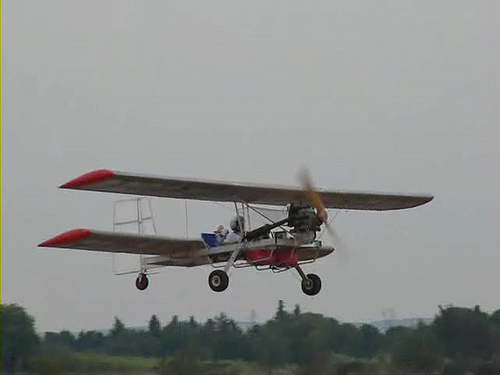 The Bipouchel
The world's cheapeast ultralight !
This affordable two-seater, side by side powered by a ROTAX 582 and incorporates the patent No. 97026432 from Daniel DALBY on ultralights structure in the form of ladder, because the structure of the wings consists of a double spar Aluminum section 100 x 50 x 2 connected by spacers. This rigid structure, as the POUCHEL ease the building of the wings.
We slide the styrofoam ribs of 30 mm on the structure then we stick the leading edge and the trailing edge, and just cover them with fabric (Dacron). The fuselage is also realized with 100 x 50 x 2 sections.
On the two-seater, the structures from ladder were abandoned for two reasons:
- Loads of a two-seater is 1.5 times higher than the single, constraints supported by the ladder became significant, which is not the case for the single-seater.
- By definition a two-seater takes two persons and one of her necessarily had no knowledge of the structure in ladders, what is not the case on the single-seater which only the members of the Association (APEV) can build.
The tandem took the air by the end of 2006 and we continue to develop and test. An another Bipouchel flew in 2008.
The COMPLETE KIT requiring only hundred of working hours with an light equipment (drill - pliers - some keys - an iron) and with the available elements is marketed with the association for 6000 - 7000€ without the engine.
The final cost should be between 8 and 9000 euros by mounting a Rotax engine used revised
The plans will be circulated to members of the APEV at a price of 180€
The gorgeous Bipouchel of Xavier Genoud